Brittany's upcoming "obstacles" and how Brittany and her brother will evolve as "different persons" this season were discussed EXCLUSIVELY with HL by Anna Grace Barlow, star of "The Big Leap."
Prepare to have a wonderful time with FOX's The Big Leap. The show covers a varied collection of people who are auditioning for a reality dance show in order to better their life. Brittany, along with her twin brother Simon, is one of the characters auditioning.
Anna Grace Barlow gave HollywoodLife some EXCLUSIVE details on what to expect from Brittany, including her "Sharpay and Ryan vibe" with Simon and her "unexpected difficulties." She also talked about how the part pulls her back to her dancing roots.
What was it about The Big Leap that really stood out to you, especially the show within a show aspect? 
Anna Grace Barlow: When I get emails and auditions and stuff like that, I really pay attention to the creators, and that's how I figure out how a show is going to be tonally and in what way it might go. I was like, "If you put Modern Family and Friday Night Lights together tonally, it's like our show." When I saw Jason [Winer] and Liz [Heldens] on there, I was like, "If you put Modern Family and Friday Night Lights together tonally, it's like our show." It's just great television.
That, I believe, is what stood out the most. It was those folks I'd kill to work with, and the character was so funny and misunderstood and sassy and pink and glittery and all of the things I've always wanted to portray because they're not really who I am. It's a lot of fun to be able to channel that kind of personality.
The audition sides that I had were all confessional in nature, similar to how they stare at the camera in Modern Family. So that was a lot of fun because it's not something I get to do very often, so I got to stretch my acting muscles a little bit there doing a confessional sort thing.
Every step of the way was an absolute blast. It's even more insane to be there and work with Scott Foley, Teri Polo, and Piper Perabo. From top to bottom, it's been a dream come true.
Tell me a little about Brittany and what fans may look forward to from her this season.
Barlow, Anna Grace: So Brittany enters, accompanied by her twin brother. She's a fierce competitor. She wants to be a part of the program. She aspires to have the well-known boyfriend. She knows exactly what she needs to do to get admitted to the center, and that's all she cares about. Through Gabby, played by Simone Recasner, who is totally great, I believe she will face some unforeseen challenges. She's obviously Gabby's antagonist, and she'll struggle with losing control of the situation, which will reveal why she's the way she is.
I'm happy to be able to give a dazzling, glittery, b**chy character like this some humanity. They're always my go-to characters to play, like a quasi-villain with a twist and a compelling past. I've had a lot of fun stretching myself, learning new skills, dancing, and discovering new things. I believe she will be someone who fans would adore to despise.
My hope is that she will make people laugh and entertain them, and that they will realize that there is more to life than meets the eye, and that you never know what someone is going through.
What is her relationship like with her brother? Because I'm getting some Sharpay and Ryan vibes from them. 
They have a lot of Sharpay-Ryan enthusiasm. Anna Grace Barlow: What's funny is that Adam Kaplan, who is an outstanding Broadway lad, plays my identical brother, and our narratives take us apart in a way. I believe we were raised as a family, and the play The Big Leap allows us to mature as individuals for the first time.
That's actually a lot of fun to play with because we have these times together that are deeply rooted in our relationship with our mother and how we were raised, and then when we're separated, we're discovering ourselves as people for the first time. It's a lot of fun to work with him, and learning the rumba with him in the pilot was a lot of fun. He's a fantastic dancer and a fantastic teammate. I can't wait for the rest of the world to fall in love with him as well.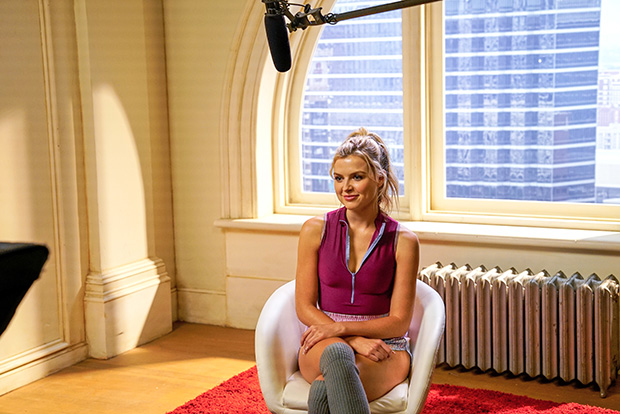 What was your dance experience like before The Big Leap?
Anna Grace Barlow: It's interesting since I grew up taking ballet, jazz, and other dance classes. My two younger sisters both competed in dance competitions in the spirit of Dance Moms. They were incredible. I was doing some theater when I was in eighth school and thought I had the theater bug at the time.
They were still performing competition dancing, and the theater director was having a kids program, and the director told me that he wouldn't move me up to the more advanced group until I could dance better, because I began off singing.
So for a year, I attended to dance class every day of the week. My small sisters had a lot of dances at the recital at the end of the year, and I had a lot of dances as well. 'Oh my god, here's a picture of your sisters,' my friend said as we browsed through the program. My sisters had a photo of themselves with the comment, 'We love our dancing girls.'
Mom and Dad, I love you.' I wasn't even invited to participate in the photo, so it's been a running joke for years that I'm not a dancing girl. My mother exclaimed, "You are now a dancing girl," when I earned this part. My connection with dancing has always been one of wanting to be better than I already was. I did a movie a few years ago in which I played a weird character and danced terribly on purpose to make people laugh.
It took a long time for me to retrain my brain to dance well because I am a good dancer, rather than trying to make a joke out of it. So there's a lot of rewiring going on, but I'm delighted Jason and Liz trusted me. 'I danced in heels,' I said when they asked if I danced. I've seen a lot of Dancing with the Stars, so I'm sure I'll be OK.' They simply nodded and replied, "OK." They didn't have me prove anything, so I consider myself really fortunate in that regard. But it's more about the acting and the characters than anything else, and it's been a challenge. Since we've started working on it, I feel like I've improved dramatically.
With this being a show within a show, does that mean the twists are going to be even crazier? Because you almost have to one-up the show within your show.
Anna Grace Barlow: You'd think so, but it's hilarious that a show about a reality show where they want the drama and where the most drama appears to be outside of the show. The show within the show is incredibly humorous and skilled at playing on all of us as odd, amusing, and flawed characters and individuals.
Its tone strikes such a fine balance that it's fascinating to observe. It's genuinely amusing, and then there are the deeper, more emotional moments. There are so many people in this story. At the point where we're filming right now, everyone has had a dramatic moment.