Given the actor's recent string of well-publicized public gaffes, the phrases "Matt Damon" and "press tour" should send a shiver down your spine.
Weeks after the outrage over Damon's claim that his daughter had only recently taught him not to use a homophobic slur, the Oscar winner has agreed to another interview ahead of the premiere of his new film, "The Last Duel," in which he co-stars with Ben Affleck.
Because movies don't advertise themselves, especially ones with hilariously bad wigs, Damon opened up in a wide-ranging GQ piece published Wednesday about nearly everything except his most recent incident, which he declined to explore further. Readers did learn a few personal and previously undisclosed facts about Damon, such as the meaning of his tattoos and how he manages his "extremely secret Instagram account."
Damon disclosed in the profile that the "weird looping line" on his upper right arm is the same ink that Heath Ledger, who co-starred with Damon in the 2005 fantasy film "The Brothers Grimm," had on his shoulder at the time.
Damon stated he contacted a friend "who did all of Heath Ledger's tattoos" when he decided to get his first tattoo and chose the symbol.
Damon explained, "That's something Heath had on his arm." "Heath was a restless, inventive individual. I spoke with his hairstylist on 'The Patriot,' and she said he loathed sitting still so much that 'by the time I put the wig on and set it and everything, and I was done, he'd get up and there would be a sculpture of bobby pins that he'd done.' He was a really sensitive person. He didn't even have to think about it; it just came out of him. He was truly unique."
He said, "I just wanted to obtain whatever Heath had." "When Scott [the tattoo artist] showed me his laptop, I asked him, 'Scott, what's that one?' 'I have no idea,' he says, 'I guess that's simply some nonsense that Heath squiggled.' "That's the one I want," I said.
Years later, alongside the Ledger-inspired tattoo, Damon added the names of his four daughters in fine-line handwriting, which his wife, Luciana Barroso, also got inscribed on her foot.
Damon explained, "So we both have that." "It's like a creative little blessing," she says. It's as if an angel is watching over all the names on the arm."
Damon has previously spoken about his feelings for Ledger, who died in 2008 after an overdose on a prescription narcotic.
Ledger was "too bright for this earth," he told GQ in 2016, and his death was "just fucking useless."
"There were some things he performed that I could not have accomplished in three lifetimes. "And he was like a puppy dog in some ways," Damon said at the time. "You wanted to keep him safe."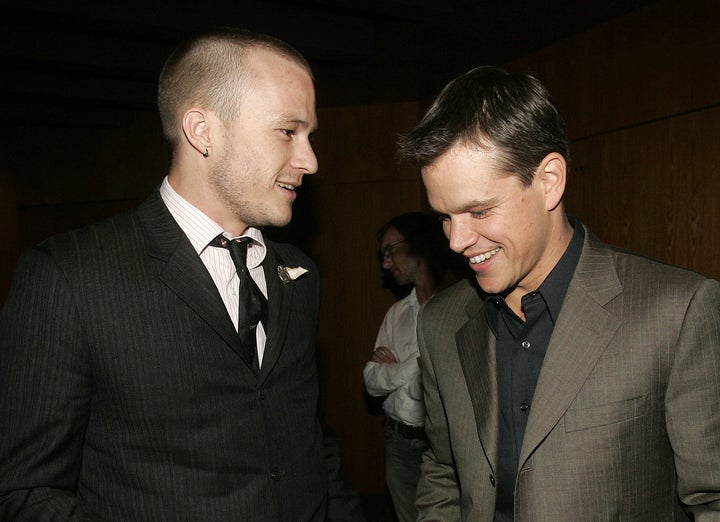 Damon also addressed the many waves of backlash he's gotten in recent years in the new GQ interview, noting that people's criticism of his words "hopefully makes me more conscious."
He stated, "It's hard to take punches for stuff… the person they were saying, 'He's tone-deaf, and he's…' I don't like that man either." "So hearing those things about oneself is difficult."
Damon has mostly avoided social media as a result, however, he has admitted to maintaining a hidden Instagram account ("I have 76 followers and have done 40 posts since 2013") in case any online sleuths have any spare time.
He stated of social networking, "I just never saw the point." "And the more time passes, the better I feel about that decision. I understand the need to be linked to everyone on Facebook, but my life is already jam-packed, and I'm already connected to everyone I need to be connected to. Then there was Twitter, where I just couldn't think that my first knee-jerk reaction to something was necessarily something that should be broadcast around the world."