Today's hair will be gone tomorrow, so enjoy it while you can.
NFL quarterbacks are known for reinventing themselves as they get older, and the same can be true for their appearance.
It's important for quarterbacks to build their own sense of style over time if they want their advertising checks to keep coming in and their marketing opportunities to keep coming in.Aaron Rodgers, to the rescue.
The Packers quarterback has come a long way since his appearance at the 2005 NFL Draft, when he resembled a long-lost *NSync member who may have spent too much time in the hotel bathroom gelling up his hair, missing the tour bus, and being forgotten about.
Rodgers drew the attention of the football world this offseason, not only because of his drama with the Packers, but also because of his new 'do heading into his next, and possibly final, season with the team.
Here are some of Rodgers' most well-known looks over the years:
Aaron Rodgers hair timeline
2005
The gelled-up front-flip with the soul patch was so early 2000s it hurts.
Rodgers, fresh out of Cal, had the frat-boy-you-wouldn't-let-date-your-sister look down pat: Rodgers got a seventh-round grade on his salad after drafting the California youngster with the No. 24 overall choice.
To be fair to Rodgers, the look was eerily reminiscent of really terrible hair in the early 2000s, so it fit him at the time.
2008
Rodgers starts his career by looking like a dude who hangs out at his local Barnes & Noble, scouring the aisles of the manga section.
During his first NFL game as a starter in 2008, Rodgers abandoned his *NSync appearance for something a little more current and modest. Nothing spectacular or flamboyant, maybe a little on the longer sides and top, but Rodgers would choose for simplicity over flare and pizzazz. Thankfully.
2012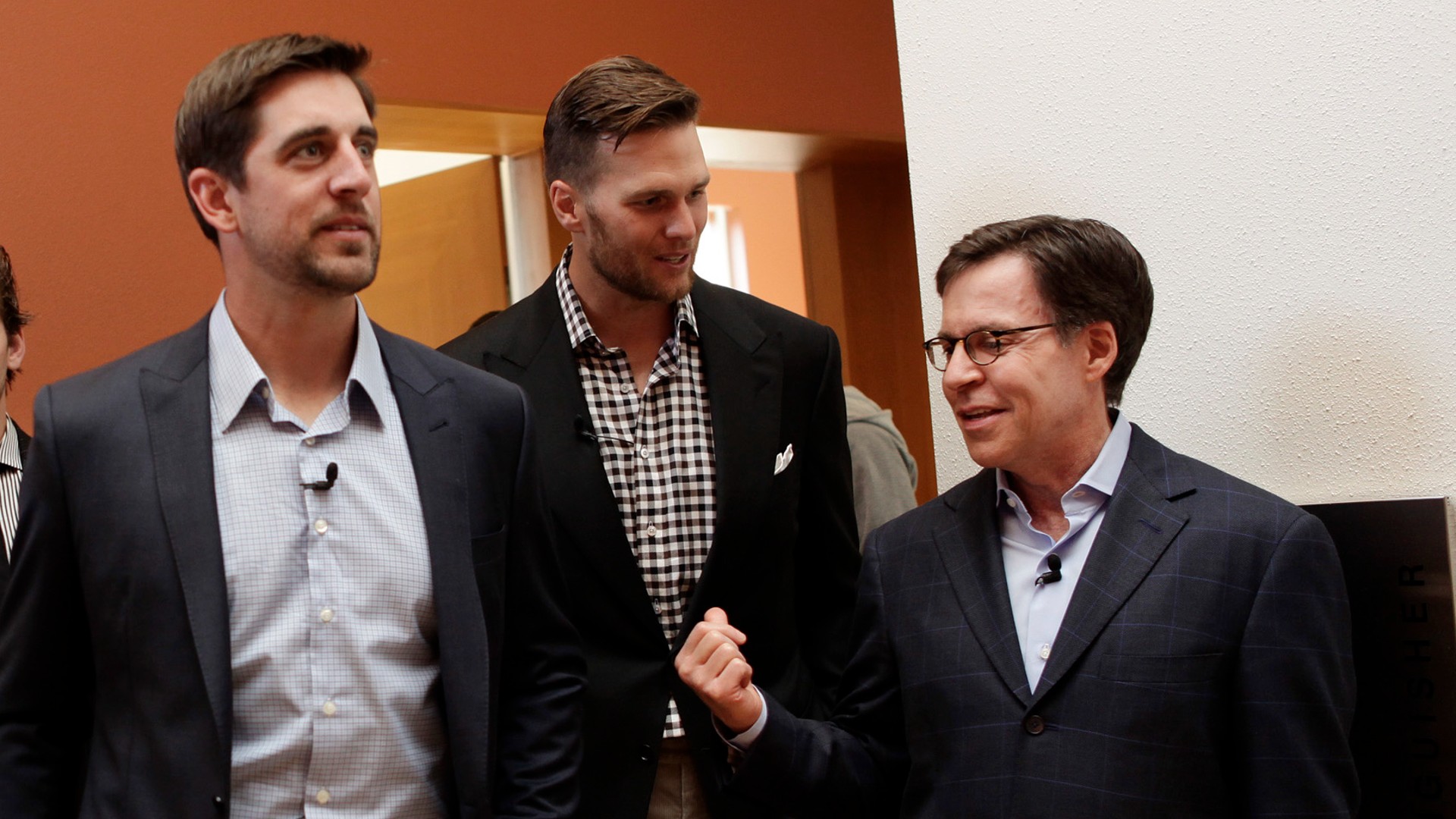 Just a couple of jamokes. And Bob Costas.
In 2012, Rodgers began to tighten up his game — and his hairdo — by swapping his prior scruffy look for something closer to the dome. Until recently, it would become Rodgers' defining look.
Thankfully, it appears like Rodgers opted to cut back on the hair product in 2012, opting for a more natural look, which worked out well for him, as he went on to earn his first of three MVP trophies following the 2011 season.
2015
And here we see a man who is beginning to discover he can grow a beard.
While the scruff was visible in previous years, Rodgers began to use facial hair to continue to change his appearance throughout his career. He's a rare breed of male that can pull off almost any facial hair appearance, which he does well in a number of the entries on our list.
2018
"Hey, babe." – Aaron Rodgers, probably.
Rodgers' tight-haired, clean-cut image is now a thing of the past. Rodgers has thoroughly embraced his role as a bearded dynamo. The days of the boy-band soul patch are long gone. Aaron, the Brooklyn Hipster, would like to welcome you.
The gray hairs popping out of Rodgers' chinny-chin-chin, signifying that Rodgers has attained peak wisdom, may be seen if you look attentively. In the offseason, he's probably sitting atop the Himalayan mountains, talking with the football gods and meditating on how to take apart defenses.
… Or maybe that's what having Mike McCarthy as your head coach for ten years will do to you..
2019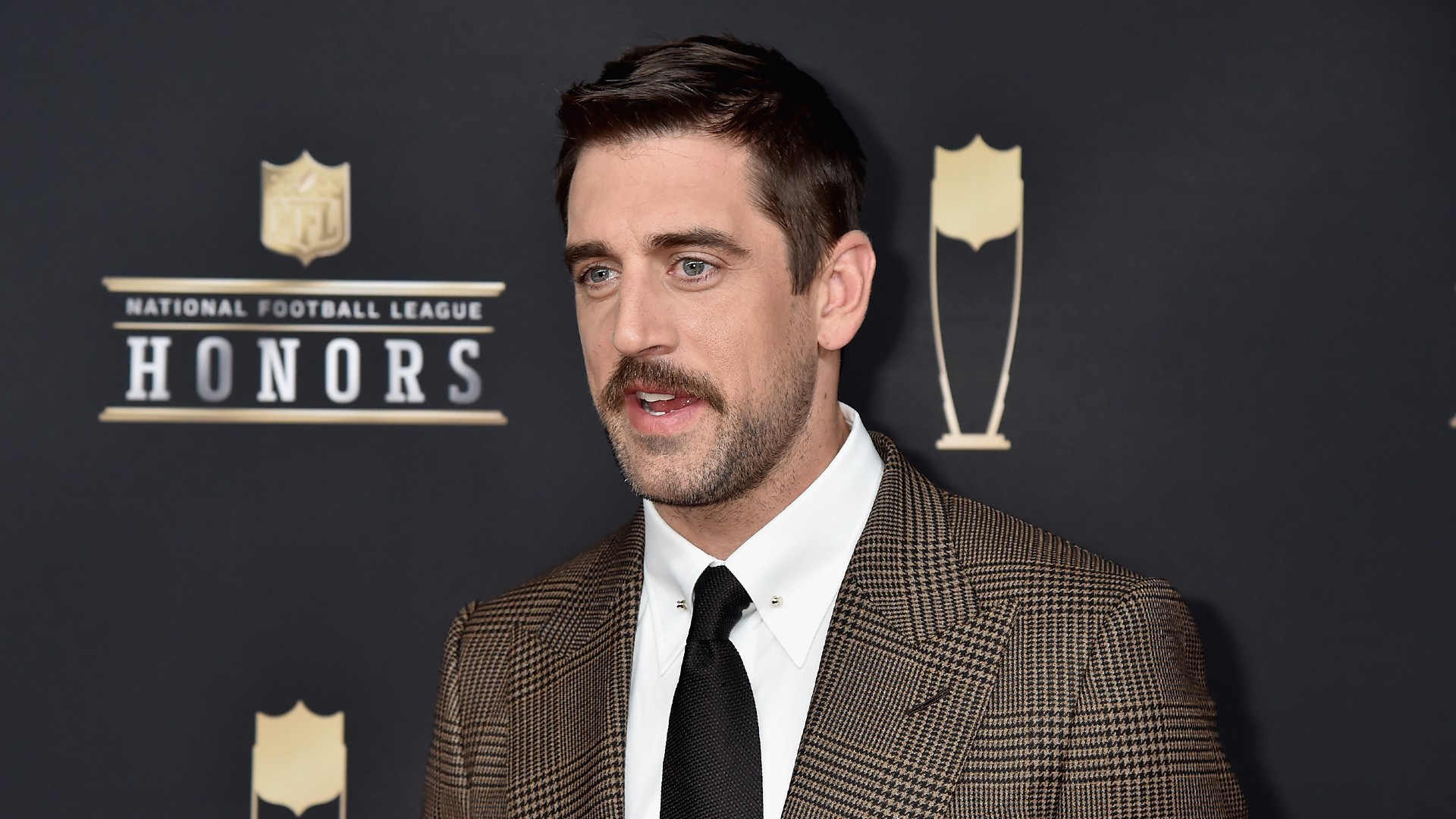 I bet you're wondering why we shared a picture of Burt Reynolds here…
In early 2019, Rodgers takes a break from the beard to perform his best "Mad Men" impression. Rodgers wouldn't win MVP that year; he'd have to wait a year for that accolade, but he'd play in the NFC Championship Game the following season.
Rodgers would go for the beautifully manicured beard appearance in the offseason before returning to the full beard look in 2020.
2020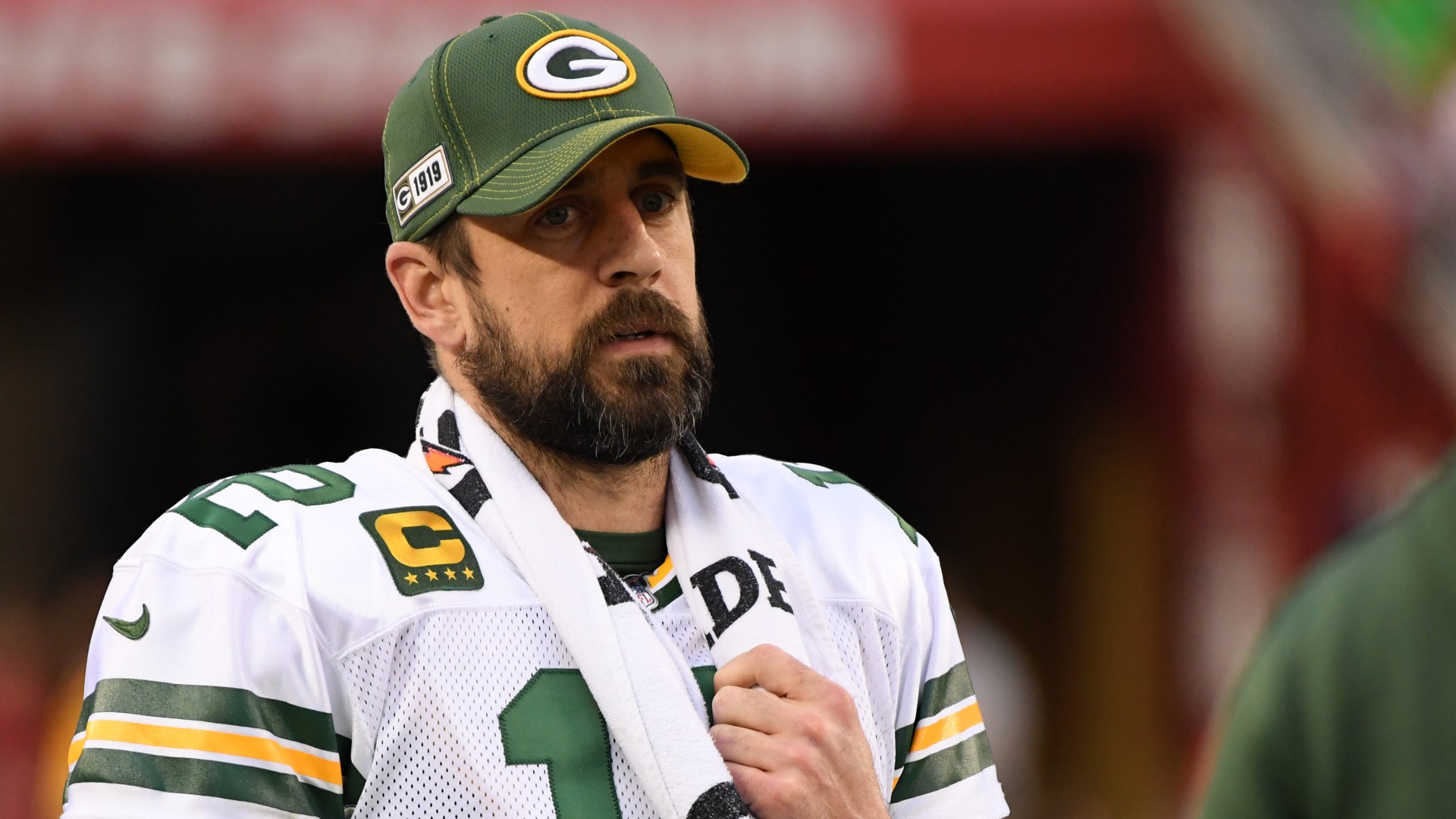 "I've made a huge mistake."
Rodgers embraces the full beard look once again as the 2019 season comes to a conclusion, with the follicles achieving their peak form heading into the playoffs. It's long and bushy, and he has the appearance of a frontman for a Mumford & Sons tribute band.
For the start of the 2020 season, the beard would stick around, albeit trimmed.
2021
"Now I am become Death, the Destroyer of Worlds." – J. Robert Oppenheimer
Aaron Rodgers opted to hang up his cleats and reintroduce himself to the world as a yoga instructor after a year of traveling the desert in quest of the endless well. *Applies a gentle touch to the ear. Hold on, I'm told that's not the case, and that Rodgers will be back with the Packers in 2021.
After a year of offseason drama, a person's life, and in Rodgers' case, his hairdo, is re-evaluated. While images of Rodgers taken throughout the offseason show him with a growing head of nearly shoulder-length hair, for the start of the 2021 season, he completely embraces 2014 men's hair trends and goes full man bun.
As he enters his (probably) final season with the Packers, Rodgers has truly reached his "IDGAF" stage.
If that's the case, he'll have left his blood, sweat, tears — and hair strands — all over Lambeau Field.